The PMG Holder & Label
Protect your notes with the industry's best holderadvanced PMG holder. Designed for the long-term preservation of notes, PMG's holder possesses superior optics that enhance the presentation of encapsulated notes and, along with its informative label, contains sophisticated security elements that protect against counterfeiting and tampering.

Scroll to learn about the features of the PMG holder and label.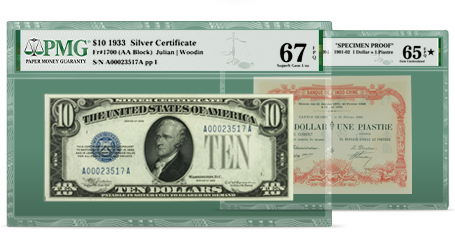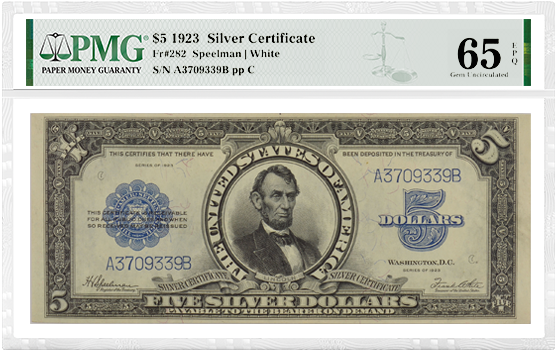 PMG Holder
Introduced in 2016, the fourth-generation PMG holder is comprised of high-quality inert materials that are also significantly more transparent. This promotes superior optics for crisp, clear display and long-term preservation.

To learn about PMG oversize and custom holders, click here.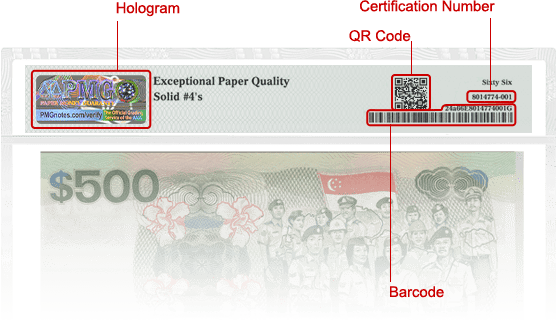 Security Features
Every PMG holder includes security features that protect against fraud and environmental hazards. A hologram, certification number and label with watermark help confirm authenticity, and a custom, embossed seal prevents contamination. Additional covert features provide extra layers of protection.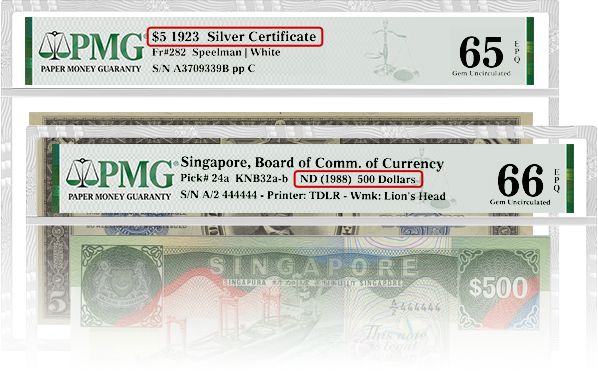 Denomination, Series and Note Type
The large-print label displays specific information about your note, including the denomination, series and note type.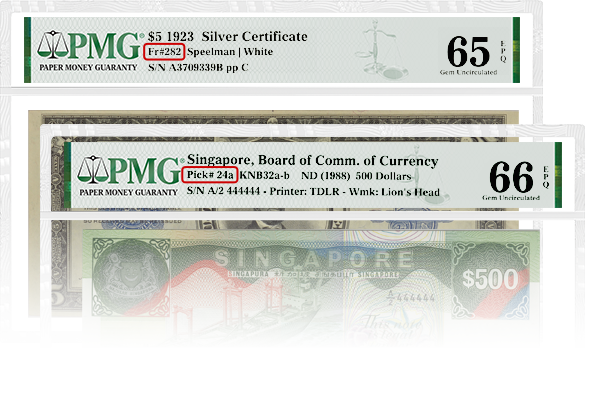 Catalog number
Catalog numbers shown on the PMG label offer universally-accepted shorthand for the description and cataloguing of world paper money. These are generally Pick or Friedberg (FR) numbers, but more specialized resources are sometimes also listed.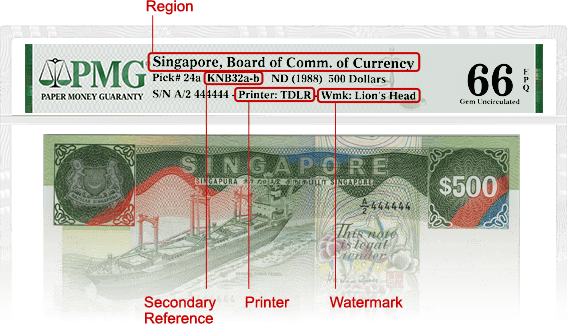 World Notes Only (Non-U.S.)
Region, Secondary Reference, Printing Company and Watermark
Note-specific details for world banknotes are clearly stated on the PMG label for easy identification and classification.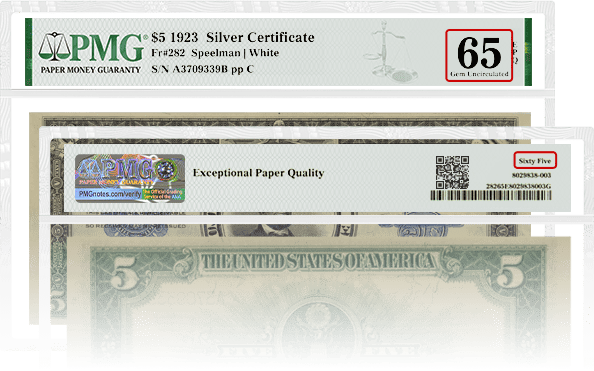 PMG Grade
PMG uses a 70-point numerical scale derived from the internationally recognized Sheldon grading scale. Currency cannot be graded higher than 65 without receiving the EPQ designation, and those graded 70 must also have the PMG Star () designation. Multiple professional graders examine every note, offering unparalleled accuracy and consistency. PMG may also assign its trademarked Star () Designation to notes that are deemed to have exceptional eye appeal.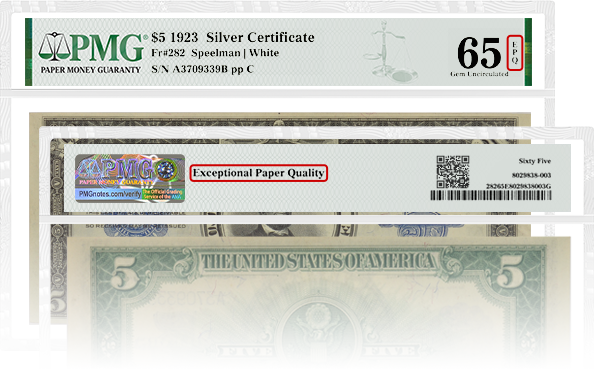 EPQ Designation
Reserved for notes determined to have Exceptional Paper Quality, the EPQ designation indicates that they have not been physically, chemically or materially processed to lend the appearance of a higher grade.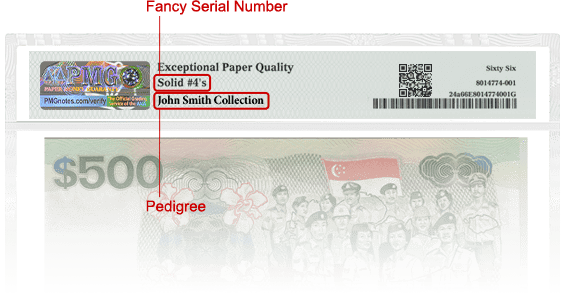 Pedigree
A pedigree describing the current or past ownership of a note or another important aspect of a banknote's history can be listed on the PMG certification label by request for an additional fee. PMG will pedigree notes to significant collections if sufficient documentation is provided. Pedigrees can also be requested for Courtesy Autographs, Plate Notes, Discovery Notes, commemorative occasions, a submitter's own collection and more. PMG may decline to recognize a pedigree at its sole discretion. To learn more about pedigrees, click here. Unlike pedigrees, fancy serial numbers, such as "Solid #4's" highlighted here, are listed automatically for no additional fee.